The small restaurant DEVAL in Vienna delights its guests with a unique fine dining concept. With just 6 tables per dining room and personal attention and explanation from Chef Daan de Val, you'll have a particularly intimate dining experience here – just like at a friend's home. The Chef's Choice menu delights with regional products and exceptional preparations for an unforgettable taste experience.
Welcome to DEVAL Restaurant in Vienna – a small, cozy place that delights its guests with a unique fine dining experience to feel good. In a pleasant and stylish atmosphere you will spend together with max. 5 other tables an enjoyable evening. Let Chef Daan de Val take you into his creative culinary world during the menu sequence that starts together.
Our Course starts together and continues from course to course.
Experience how personal and relaxed fine dining can be. Prepare for an evening of culinary highlights and enjoy both our menu and the accompanying explanations by our chef himself.
Discover on a wonderful evening how relaxed fine dining in Vienna can be.
CHEF'S CHOICE - AN EVENING LIKE AT A FRIEND'S HOUSE
The unique thing about the DEVAL concept is that the menu sequence for our guests always starts together. Similar to a theater performance you enjoy together with max. 5 other tables aisle to aisle the extraordinary flavors of the author's cuisine. Each dish is not only prepared with love and passion by our chef Daan de Val, but also served and explained by him personally. Learn about the background and origins of his creations and experience food in a very special way as a result.
According to your preferences, you can choose to enjoy the Chef's Choice menu with meat or vegetarian. At DEVAL you will always be enchanted by new combinations of regional ingredients and often almost forgotten products.
We use only valuable products and attach great importance to sustainability. Because we want to ensure that our carefully selected ingredients do not have to be prepared unnecessarily and then wasted, we use these products exclusively on a reservation basis. Therefore, please let us know already at the time of reservation which menu sequence you prefer or which products may be included (with meat, vegetarian, pescetarian).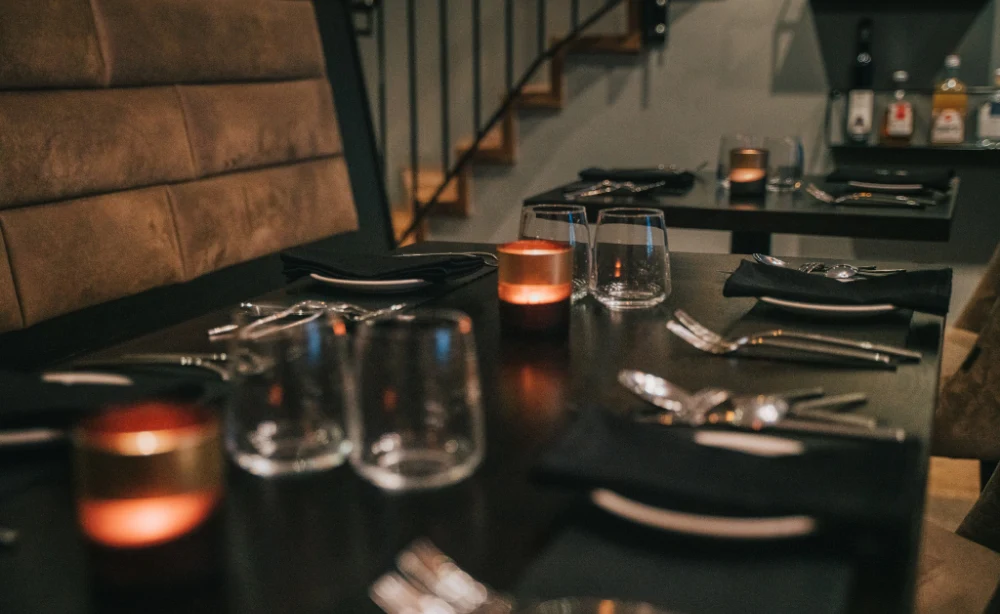 We look forward to welcoming you soon. Reserve your table directly on our website and give yourself an unforgettable time in our fine dining restaurant in Vienna 1010.
6 COURSES MENU
+ WINE ACCOMPANIMENT
WE DO NOT CHARGE A COVER OR SERVICE FEE.
TIP NOT INCLUDED.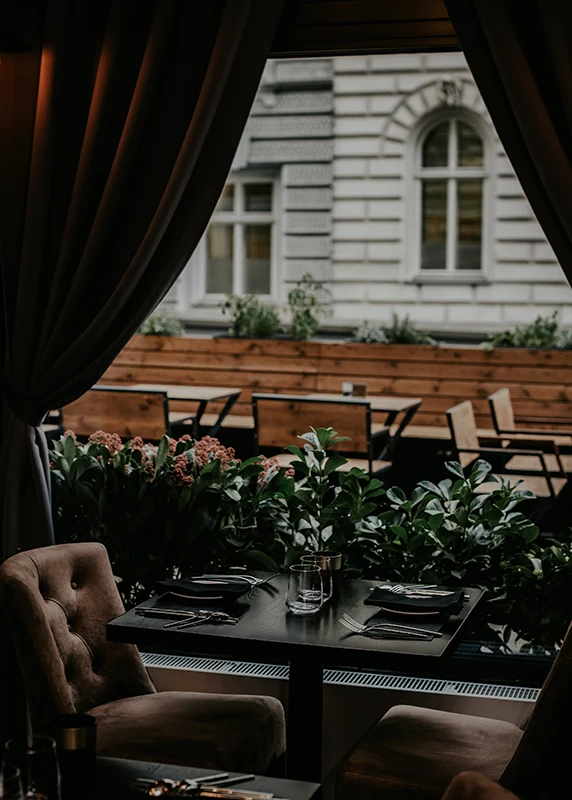 A PLACE THAT INVITES YOU TO ENJOY AND LINGER
Our two-story restaurant directly behind the Viennese Parliament is the symbol for the fact that enjoyment takes place on several levels. When designing the stylish little restaurant, it was important to the hostess Evelyn Schranz to create a place that invites you to relax. A place to consciously perceive food and indulge your palate with regional treasures. Not only on the plates the guests of the DEVAL may enjoy a variety from the region, also an exclusive selection of the most different Austrian vintners distinguish the wine list of the DEVAL. Discover one or the other still unknown secret tip of Austrian wine culture.
Convince yourself of our hospitality and discover on a wonderful evening how relaxed fine dining in Vienna can be.
Every guest deserves only the best quality in the form of our homemade dishes. We personally stand for regional top quality in our exclusive menu sequences.
Do you want to be the first to receive news and updates in the future?
With our newsletter you will receive advance information about events, specials and upcoming menu sequences: